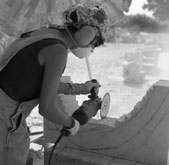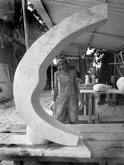 "The work starts with a sketch, on paper, in wax or sometimes just in my mind. With the angle grinder
I cut the form out of the stone. When I have created a rough shape I even it out with the pneumatic
hammer or hand chisel. Then I sand it smooth, with machine and by hand.
I polish with the finest of sandpaper to make the surface as soft as silk to the touch.
I want the sculptures to be touched in order to feel their sensuous form."
Jill Höjeberg